MT Rivendells Hang Ten
"Dude"
Old Mountain Farm Gilgamesh X Carl B's RA Surfer Girl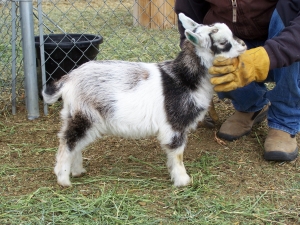 Neightnkevs Champ
"Champ"
Sire: Poppy Patch PB Debonaire
Dam: Wintersend Gabrielle
Click here for additional photos and pedigree
We are very excited to be adding this guy to our herd.
He is backed by an amazing pedigree and his color is icing on the cake.
Thank you Pelican Acres for the opportunity to own such a promising young buck!
The photo below of Dauntless is courtesy of Pelican Acres.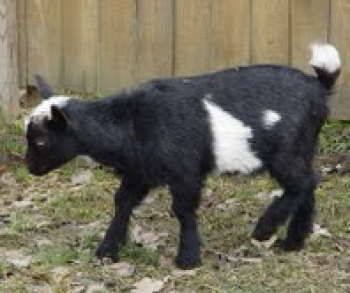 PELICAN ACRES TLP DAUNTLESS
B Old Mountain Farm Black Tulip *S X Shere Country EX Suri
See Pedigree Below
Sire
Old Mountain Farms Black Tulip

Sire
NC Promisedland SS Hot Stuff

Sire
Promisedland CP Seymore Spots

Dam
GCH/ARMCH Promisedland CP Lil BoPeep

Dam
*M Old Mountain Farm Tulip *D 'E90'
Sire
Woodhaven Farms Neon Eclipse 'VG'

Dam
Stonewall's India Wilkes

Dam
Shere Country EX Suri

Sire
Lost Valley KW Excaliber

Sire
Gay-Mor's RA Kingwood ++ *S

Dam
ARMCH Lost Valley RTW Madison 3*D
Dam
Deb's Whisperwoods PG Beyonce

Sire
4 Fun Gay-Mor Lemon Pot-O Gold

Dam
Gay-Mor's Blue Looney Meg Ryan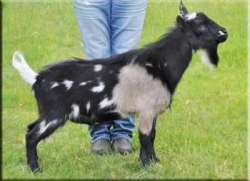 <= B Old Mountain Farm Black Tulip *S
Shere Country EX Suri =>